System of the Keisei Group's management plans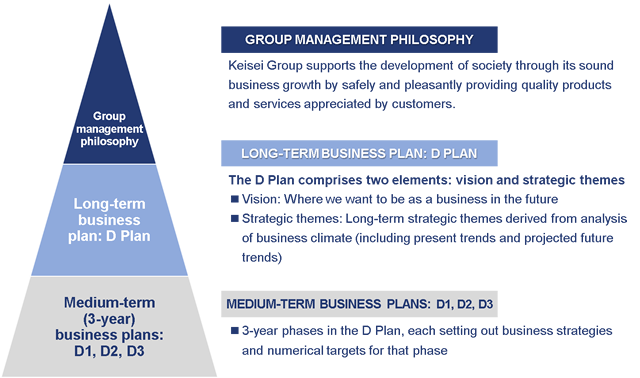 Long-term management plan EVOLUTION PLAN
Enhancing our position as a corporate group representing the regional economy by further strengthening the competitiveness and earnings power of the transportation business, the Group's core operations, and firmly developing the community-based living essentials industry in the northwestern part of Chiba (areas served by the Keisei Line, the Shin-Keisei Line and the Hokuso Line) and the eastern part of Tokyo.
Long-term management plan "EVOLUTION PLAN" (E Plans) (12 years from FY2010 to FY2021)

EVOLUTION PLAN numerical targets
(consolidated) for FY2021 (fiscal year ending March 31, 2022)

*1 Interest-bearing debt outstanding includes lease obligations.
*2 EBITDA multiple = Interest-bearing debt outstanding / (Operating income + Depreciation and amortization)
Medium-term management plan (E4 Plan) (FY2019 to FY2021)
Position of E4 Plan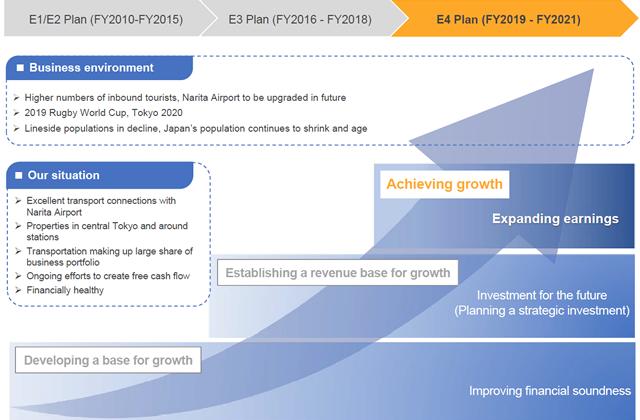 Basic Policies
■Enhance business management to bolster earnings
■Provide safe and secure services
■Establish CSR management
Basic Strategies
1. Engage with local stakeholders to increase our profile
To sustainably develop lineside areas, we are energizing the areas in way that suits their circumstances, delivering lifestyle services that strengthen our connection with lineside areas, and working with local authorities and schools.
2. Manage the group more effectively and strengthen corporate governance
To meet increasingly diverse CSR demands, we are consolidating business across the group, strengthening CSR efforts, and promoting compliance culture.
3. Cultivate inbound tourism market
In the run-up to Tokyo 2020, we are ramping up marketing and upgrading the level and capacity of our services to meet the expected surge in visitors.
4. Expand earnings by strengthening existing businesses
To boost earnings and expand business, we are developing our second core business, real-estate leasing. Specifically, we are pursuing M&As and partnerships and, in the stay-type hotels business, opening new locations.
5. Ensure safety and security and improve the quality of services
We are further enhancing our railway's safety and reliability. Across the group, we are aiming to raise the level of safety and customer satisfaction.
6. Establish new growth vision
Narita's situation is changing; the airport will see an increasing amount of traffic in the future. Given the increasing traffic at Narita, we must bolster our transportation capacity.
Numerical targets of E4 Plan
Operating revenue


290.0 billion yen or more

Operating income


33.0 billion yen or more

Operating income margin


11.3% or more
Interest-bearing debt outstanding*1


320.0 billion yen maximum

EBITDA multiple*2


5.1 times maximum
*1 Interest-bearing debt outstanding includes lease obligations.
*2 EBITDA multiple = Interest-bearing debt outstanding / (Operating income + Depreciation and amortization)