In our business operations, we put safety and security first under the Keisei Group Philosophy. We believe that we need to improve our corporate governance to earn the trust of all stakeholders, achieve sustainable growth, and maximize the enterprise value of the Group. Specifically, to increase the health and transparency of management, we are working to improve our systems for speedier and more efficient decision-making, stricter supervision, more effective internal control, and the proper and timely disclosure of information.
Outline of the corporate governance system
As a company mainly involved in the transportation business, we select inside directors with expertise in areas relevant to the unique nature of our operations. And we have adopted an executive officer system to clarify the function of management supervision and the function of business execution and strengthen the business execution system. In addition to assigning full-time executive officers with general management duties over relevant divisions, we also have adopted a structure of appointing persons with experience serving as a full-time director to the position of representative director of major Group companies.
We also select four outside directors to provide effective opinions from an objective and neutral perspective, which helps to strengthen governance. For the Audit & Supervisory Board Members charged with monitoring business execution by directors, we appoint four outside directors. This includes one full-time Audit & Supervisory Board Member. We also have established a Secretariat to the Audit & Supervisory Board that is independent of the directors to strengthen audit functions. This structure helps ensure our ability to check and validate decision-making from an independent perspective.
Organization chart
The chart below shows our system for executing operations and supervising management.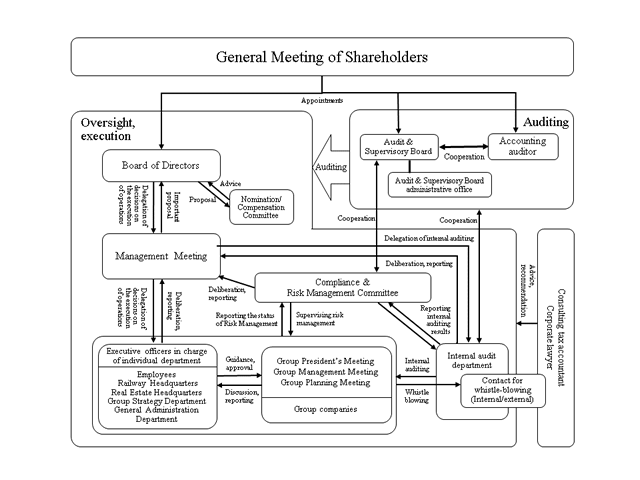 Corporate Governance Report (PDF:782KB) (Last Update: 2022/07/06)
System for risk management
With the goal of ensuring legal compliance and promoting organizational responses to risks with the potential to have a significant impact on business continuity, we established the Compliance & Risk Management Committee, which in principle meets twice per year and is comprised of full-time directors and chaired by the CEO. Through this committee, we deliberate and report on matters related to internal audit planning and risk response.
Policy on determining compensation for directors and executive officers
Compensation to directors is comprised of two portions: compensation determined based on factors such as position, operating environment, and operating performance, and compensation outlined for the acquisition of company shares that is positioned as medium- to long-term performance-linked compensation. Compensation for individual auditors is within a range determined by the General Meeting of Shareholders and decided based on deliberation by the Audit & Supervisory Board.